On May 16, 2017, PT. DigitalInstincts Teknologi (DIT) partnered with Advantech to provide tools for industrial computer system, enhancing some of our features those are Engine Health Monitoring (EHM) and Smartscale.  It's been an honor for us to be participated as one of focused channel partners on the 4th Advantech Solution Day.  The main events are focused on technology professionals, cutting-edge solutions and applications featuring seminars and analysis of market trends.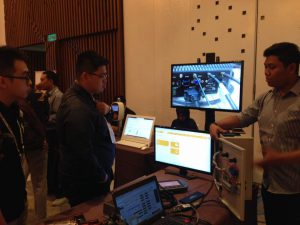 We had a booth on the spot and our team utilized the opportunity to showcase our products are introducing the solutions collaborating with Advantech.  Our showcase product visited by many participants to know  more about our advantages  in providing Fleet Management Solutions.
DIT's CEO  Mr. Kenny Marchel also become one of the speakers on the event.  Mr. Kenny explains the topic about how IoT takes part in industrial logistics and also mentioned about basic time distribution.  Furthermore, our CMO Mr. Yuzo Kuboyama also takes place to explaining about data visualization overview.  Mr. Kenny closed the presentation with the upcoming Traxia Projects. The audiences were very pleased and cheerfully applaused.
The 4th Advantech Solution Day is very helpful in establishing cooperation with colleagues in different business fields to provide the solutions they want especially Fleet Management Solutions and most importantly to increase knowledge of Traxia which able to boost Fleet productivity and cost efficiency.